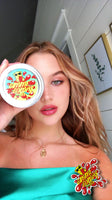 A little bit about us...
Gimme Gomas HTX was founded in Houston, Tx. It's a mixture of your favorite candies mixed with our homemade "Pulpa" with hints of different spices. Bringing different/variety of candy to the next level. From our mouth watering Sandias (watermelons) to our popular Fruit Gushers mixed with our mild mixture that will have you savoring for more. People of all ages will never see their favorite candy the same. We offer different sizes and party trays as well. Sweet-tooth to the next level!
A HUGE THANK YOU to every single one of you that has purchased any of our products and continue to support us.
XO- The Gimme Gomas Team